---
Contact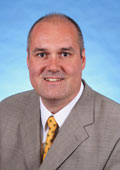 ---
Büro
Raum: 207
Universitätsmedizin Rostock
IMIKRO
Schillingallee 70
D-18057 Rostock
Sekretariat
Curriculum Vitae
Kreikemeyer, Bernd
Prof. Dr. rer. nat.
geb. 16.08.1966
W2 Universitäts-Professor für "Molekulare Bakteriologie"
Stellv. Institutsleitung

Universität Rostock, Universitätsmedizin (UMR)

Institut für Medizinische Mikrobiologie, Virologie und Hygiene (IMIKRO)

Schillingallee 70,
18057 Rostock
| | |
| --- | --- |
| 1987-1992 | Studium der Biologie an der Technischen Universität Braunschweig |
| 1993 | Diplom in Biologie, Hauptfächer: Mikrobiologie und Biochemie, TU Braunschweig |
| 1993-1996 | Promotionsstudent im Department Mikrobiologie der Gesellschaft für Biotechnologische Forschung (GBF, jetzt Helmholtz Zentrum für Infektionsforschung, HZI) |
| 1995 | PhD training am Institute of Environmental Sciences, Porirua, New Zealand |
| 1995 | PhD training am Microbiology Department, Moyne Institute of Preventive Medicine, Trinity College, Dublin, Ireland, finanziert durch Stipendium des Human Capital and Mobility Fellowship Program |
| 1996 | Abschluss der Promotion zum Dr. rer. nat. an der TU Braunschweig |
| 1996-1998 | DFG postdoctoral fellow am Centre for Extracellular Matrix Biology, Institute of Biosciences and Technology, Texas A&M University, Houston, Texas, USA |
| 1998-2000 | Wissenschaftlicher Angestellter am Institut für Medizinische Mikrobiologie, Virologie und Hygiene der Universitätsmedizin Ulm |
| 2001-2006 | C1 Level Wissenschaftlicher Angestellter, Universitätsmedizin, Rostock, Institut für Medizinische Mikrobiologie, Virologie und Hygiene (IMIKRO) |
| 2004 | Habilitation (PD Dr. rer. nat. habil.), an der Universitätsmedizin Rostock, "Venia Legendi" für "Allgemeine und molekulare Mikrobiologie" |
| 2007-2010 | Unbefristet angestellter Arbeitsgruppenleiter, Universitätsmedizin Rostock, Institut für Medizinische Mikrobiologie, Virologie und Hygiene (IMIKRO) |
| Seit 2010 | Professur (W2) für "Molekulare Bakteriologie", Stellvertretender Institutsdirektor Institut für Medizinische Mikrobiologie, Virologie und Hygiene an der Universitätsmedizin Rostock |
Forschungsschwerpunkte
Die Forschungsschwerpunkte meiner Arbeitsgruppe liegen auf den Gebieten der Infektionsbiologie, Innate Immunity, Mikrobiomforschung, Biomaterialien/Implantat-Bakterien Wechselwirkung, den Bakterien und bakt. Produkten in der anti-Tumortherapie, und der Bakterien-Stammzell Interaktion. Bakterienspezies in diesen Projekten sind Staphylococcus aureus, Staphylococcus epidermidis, sowie zahlreiche oral-paradontal-pathogenen Mikroorganismen.
Schwerpunkte in meinen infektionsbiologischen Projekten sind die Erreger-Wirt Interaktionen der humanpathogenen Bakterienspezies Streptococcus pyogenes sowie seit 2012 das humane Kontaktaktivierungssystem in seiner Funktion in der Infektionsabwehr, Sepsis und damit assoziierter Immunthrombose. Die Forschungen in den letzten 20 Jahren auf dem Gebiet von S. pyogenes beinhalten folgende Schwerpunkte die von der in vitro bis zur in vivo Ebene mittels Insekten- und Mausinfektionsmodellen bearbeitet werden:
Wachstumsphasen-abhängige Regulationsmechanismen und Aufklärung regulativer Netzwerke in Streptococcus pyogenes - Systembiologie
Identifikation von externen und internen Signalen zur Regulation von Virulenzfaktoren (z. B. Quorum-Sensing)
Differentielle Genexpression in S. pyogenes und infizierten eukaryoten Zellen mittels Array-Technologien, NGS und Proteomics
Wirtszell-Adhärenz, -Internalisierung, und -Persistenzmechanismen der Bakterien und simultane Apoptoseprozesse der Wirtszelle
Funktion von regulativen bakteriellen RNAs im Rahmen von Signalprozessen und Virulenz
Kinetische und Genome-Scale Modelle von S. pyogenes. Vorhersage essentieller Gene als neue Therapieziele
Antisense-Peptide-Nucleic Acids als neue Therapiemoleküle (in vitro/in vivo) gegen bakterielle Gene und Resistenzgene
Seit ca. 3 Jahren hat sich mein Interesse ebenfalls auf die Untersuchung mikrobieller Gemeinschaften (Mikrobiome/Diversitätsanalysen basierend auf 16S Amplikon-Sequenzierungen) aus allen biotischen und abiotischen Habitaten erweitert und die Untersuchung mariner pathogener Bakterien hat mein Interesse geweckt. Hier sind speziell Vibrionen in Zusammenarbeit mit dem IOW im Mittelpunkt gemeinsamer Untersuchungen.
Auszeichnungen • Ämter • Wissenschaftliche Aktivitäten
| | |
| --- | --- |
| Seit 2001 | Ad hoc Gutachter für Journal of Bacteriology, Microbial Pathogenesis, Microbes and Infection, Nature Reviews Microbiology, Infection and Immunity, Journal of Clinical Microbiology, IJMM, Clinical Microbiology and Infection, Proteomics, Microbiology (UK), EMBO J, PLOS, BMC, Nature Publishing group, Molecular Microbiology, Cellular Microbiology, Environmental Microbiology und andere. |
| Seit 2004 | Gutachter für DFG, BMBF, Health Research Board in Irland, US-Israel Binational Science Foundation |
| 2005-2007 | Mitglied im Laborkoordinierungsrat der Universitätsmedizin |
| 2006 | Verleihung des DGHM "Förderpreises für Nachwuchswissenschaftler" |
| 2006 | Koordinator des Bachelor-Studienganges "Medizinische Biotechnologie" der UMR |
| 2010-2014 | Mitglied der "Forschungskommission" der Universitätsmedizin Rostock |
| | |
| --- | --- |
| Seit 2004 | Deutscher Hochschulverband |
| Seit 2001 | Deutsche Gesellschaft für Hygiene und Mikrobiologie (DGHM) |
| Seit 1992 | Verein für Allgemeine und Angewandte Mikrobiologie (VAAM) |
| Seit 1992 | American Society for Microbiology |
Publikationen • Patente
| | |
| --- | --- |
| Originalartikel (peer-reviewed): | 80 |
| Reviews (peer-reviewed): | 10 |
| Erstautor/Seniorautor: | 38 |
| IF gesamt: | ~ 464 |
| h-index: | ~30 (Scopus.com) |
| Zitationen (gesamt): | 2660 (Researchgate) |
| Link Pubmed: | |
| | |
| --- | --- |
| 1. | Schäffler H, Kaschitzki A, Alberts C, Bodammer P, Bannert K, Köller T, Warnke P, Kreikemeyer B, Lamprecht G.(2016) Alterations in the mucosa-associated bacterial composition in Crohn's disease: a pilot study. Int J Colorectal Dis. in press, PMID:26951181 |
| 2. | Schaffler H, Herlemann DPR, Alberts C, Kaschitzki A, Bodammer P, Bannert K, Koller T, Warnke P, Kreikemeyer B, Lamprecht G.(2016) Mucosa-attached bacterial community in Crohn's Disease coheres with the Clinical Disease Activity Index. Environ Microbiol Rep., in press |
| 3. | Levering J, Fiedler T, Sieg A, van Grinsven KW, Hering S, Veith N, Olivier BG, Klett L, Hugenholtz J, Teusink B, Kreikemeyer B, Kummer U. (2016) Genome-scale reconstruction of the Streptococcus pyogenes M49 metabolic network reveals growth requirements and indicates potential drug targets. J Biotechnol. pii: S0168-1656(16)30007-4. PMID:26970054 |
| 4. | Patenge N, Pappesch R, Khani A, Kreikemeyer B. (2015) Genome-wide analyses of small non-coding RNAs in streptococci. Front Genet., 6:189, PMID:26042151 |
| 5. | Nitzsche R, Rosenheinrich M, Kreikemeyer B, Oehmcke-Hecht S. (2015) Streptococcus pyogenes triggers activation of the human contact system by streptokinase. Infect Immun. 83(8):3035-42, PMID:25987706 |
| 6. | Patenge N, Pappesch R, Krawack F, Walda C, Mraheil MA, Jacob A, Hain T, Kreikemeyer B. (2013) Inhibition of Growth and Gene Expression by PNA-peptide Conjugates in Streptococcus pyogenes. Mol Ther Nucleic Acids. 5;2:e132. PMID:24193033 |
| 7. | Oehmcke S, Westman J, Malmström J, Mörgelin M, Olin AI, Kreikemeyer B, Herwald H. (2013) A novel role for pro-coagulant microvesicles in the early host defense against streptococcus pyogenes. PLoS Pathog. 9(8):e1003529. PMID:23935504 |
| 8. | Patenge N, Billion A, Raasch P, Normann J, Wisniewska-Kucper A, Retey J, Boisguérin V, Hartsch T, Hain T, Kreikemeyer B. (2012) Identification of novel growth phase- and media-dependent small non-coding RNAs in Streptococcus pyogenes M49 using intergenic tiling arrays. BMC Genomics. 13:550. PMID:23062031 |
| 9. | Linke C, Siemens N, Oehmcke S, Radjainia M, Law RH, Whisstock JC, Baker EN, Kreikemeyer B. (2012) The extracellular protein factor Epf from Streptococcus pyogenes is a cell surface adhesin that binds to cells through an N-terminal domain containing a carbohydrate-binding module. J Biol Chem. 287(45):38178-89.PMID:22977243 |
| 10. | Siemens N, Patenge N, Otto J, Fiedler T, Kreikemeyer B. (2011) Streptococcus pyogenes M49 plasminogen/plasmin binding facilitates keratinocyte invasion via integrin-integrin-linked kinase (ILK) pathways and protects from macrophage killing. J Biol Chem. 286(24):21612-22. PMID:21521694 |
M. Höök, B. Kreikemeyer, R.T. Owens, R.L. Rich, S. Nallapareddy, B.M. Murray, G.M. Weinstock
Titel: Collagen-Binding MSCRAMM from Enterococcus faecalis.
Patent file No. TAMK: 211PZ1, Texas A&M University
Projekt-Management
2014-2017

BMBF ERAfrica Program: Joint Call of Programme Owners from EU Member States, countries associated to the 7th EU RTD Framework Programme and Africa on "New Ideas": "Health hazards caused by bacteria in traditional African fermented dairy products: Food safety and epidemiology (SafeDiary)".
: Leo Meile (ETH Zürich, Schweiz), Kreikemeyer (Rostock), Wambui Kogi-Makau (Universität Nairobi, Kenya), Bassirou Bonfoh (Centre Suisse Recherches Scientific, Cote d´Ivoire), Pierre Renault (INRA, France), Jan Hattendorf (Swiss Tropical Institute, Schweiz)

2013-2017

DFG GRK WELISA (1505/2): "Analyse und Simulation elektrischer Wechselwirkungen zwischen Implantaten und Biosystemen".
Teilprojekt Kreikemeyer: Verhinderung von Biofilmbildung durch S. aureus und S. epidermidis auf elektrostimmulierbaren Implantatmaterialien (M-4, E-6, T-8)

2009-2012

BMBF Grant ERA-NET PathoGenoMics II:
Titel: sncRNAomics - High throughput comparative sncRNAome analysis in major Gram-positive human pathogenic bacteria: functional characterization by a systems biology approach and peptide nucleic acid drug design. Hain (Deutschland), Rupnik (Slowakei), Hartke (Frankreich), Kreikemeyer (Deutschland), Engelmann (Deutschland), Vorwerk (Deutschland), Hartsch (Deutschland)

2010-2014

BMBF-Systembiologie an Mikroorganismen (SysMO II): Titel: Vergleichende Systembiologie von Milchsäurebakterien.
Teusink (Niederlande), Kummer (Deutschland), Kreikemeyer (Deutschland), Wade (Deutschland), Westerhoff (Manchester), Nes (Norwegen), Jensen (Dänemark)

2007-2010

BMBF Grant ERA-NET PathoGenoMics I:: A comparative molecular analysis of group A and B streptococcal pathogenesis. : Kreikemeyer (Rostock), Podbielski (Rostock), Münch (Braunschweig), Hanski (Israel), Trieu-Cuot und Glaser (Inst. Pasteur, Paris, France).

2007-2010

BMBF-Systembiologie an Mikroorganismen (SysMO I): Comparative Systems Biology of Lactic Acid Bacteria. : Kreikemeyer (Rostock), Westerhof (Amsterdam und Manchester), de Vos (Nizo,), Nes (Norwegen), Kummer (Heidelberg), Teusink und Hugenholtz (NIZO und WCFS, Niederlande)
*BMBF: Bundesministerium für Bildung und Forschung (Federal Ministry for Education and Research)
**DFG: Deutsche Forschungsgemeinschaft (German Research Foundation)
Importance
Group A Streptococci
Group A Streptococci (Streptococcus pyogenes) are important human pathogens that frequently cause purulent infections like tonsillopharyngitis and pyoderma.
Less often, they cause severe systemic infections like necrotising fasciitis and streptococcal toxic shock syndrome.
Some patients develop non-purulent sequelae like rheumatic fever and acute glomerulonephritis.
Exacerbations of guttate psoriasis and obsessive-compulsive neurologic disorders are other complications of streptococcal infections.
Annually, about 12% of the world population suffers from at least one group A streptococcal infection.
In addition, group A streptococci can persist for prolonged periods in the tonsils or the skin of patients without causing symptoms (asymptomatic carrier status). From these locations, group A Streptococci cause recurrent local infections, metastatic infections at other body sites and after aerogenic or contact transmission, infections in other persons.
Since group A streptococci are exclusive human pathogens, interruption of the inter-person spread and eradication from asymptomatic carriers would be the basis for an effective control of these bacteria.
Like other bacteria, group A streptococci possess several complex regulatory circuits, by which they can adapt their metabolic activities and virulence functions to environmental conditions, their growth phase and potentially, their population density.
When interacting with a human host, the bacteria will specifically bind to host cells and subsequently, damage the cells by the activity of own toxins or by modulation of the host inflammatory response.
Alternatively, the bacteria can internalize into host cells to persist for prolonged periods while evading the host immune response. Finally, the bacteria are able to form monospecies biofilms or integrate into mixed species biofilms. Again, both habitats offer protection against the host defence mechanisms.
With our studies, we characterize group A streptococcal virulence factor and regulatory pathways in order to understand phase variations and fine tuning of bacterial virulence and the interactions with eukaryotic host cells and other bacteria inhabiting the same anatomical compartments.
Main Topics
Current research projects on group A streptococci in the institute are
molecular characterization of S. pyogenes surface-associated adhesins, secreted enzymes and toxins

regulation of virulence gene expression and phase switching

system biology approach to elucidate the S. pyogenes whole cell metabolism and its association to virulence

bacteria-host interactions during adherence, internalization, and intracellular persistence as well as during evasion from the host cell

characterization of the molecular biology of S. pyogenes monospecies biofilms

interactions between S. pyogenes and other bacterial species of the human oral cavity and skin in the course of mixed species biofilm formation

effects of life cell / killed S. pyogenes preparations as adjuvants in experimental tumor therapy
Methods
Working groups in this area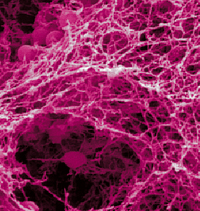 ---
---